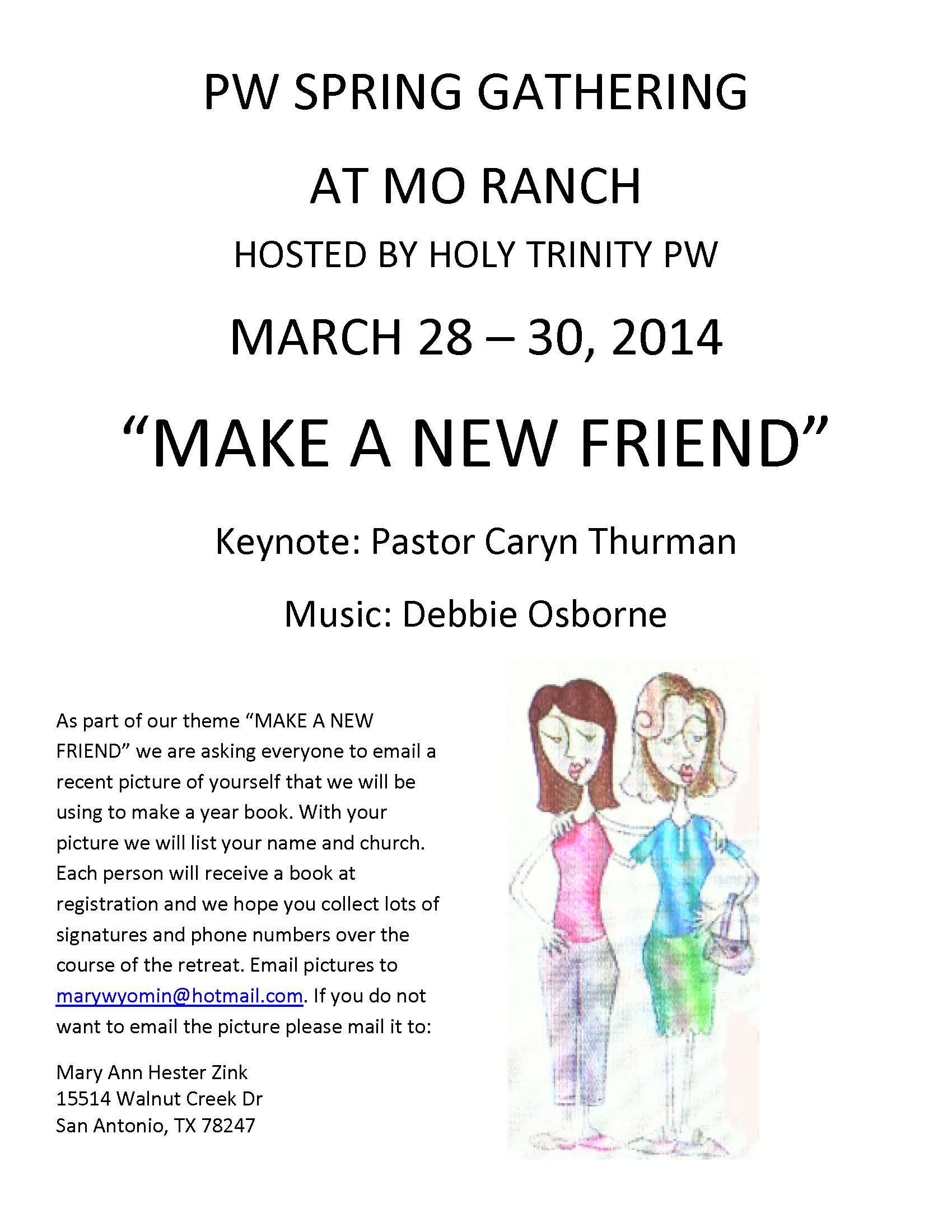 About Mo-Ranch

Mo-Ranch, the 475 acre conference and retreat center of the Synod of the Sun, is on the Guadalupe River in the beautiful Texas Hill Country.
The mission of Mo-Ranch Assembly is to provide a special place and an enriching program in a living, learning, Christian environment to enable people to grow in God through Jesus Christ.
Complete driving directions, photos, and an interactive map can be found at www.moranch.com
What to Bring
Bible, pen, jacket, casual clothing, walking shoes, alarm clock, drinking cup, umbrella, and flashlight.
FOR YOUR SAFETY, CLOSED-TOE WALKING SHOES AND A FLASHLIGHT ARE ESSENTIAL.
Gathering Information
Check-in opens at 3 pm on Friday, March 28. The Gathering begins with dinner at 6 pm on Friday and concludes at approximately 11:30 am on Sunday, March 30.
Registration
Please fill out the registration and medical information form and send it to the Mission Presbytery office no earlier than January 15, 2014.
Filled out registration form
$105 payment - Registration and meals
YOUR HOUSING COST IS NOT INCLUDED IN YOUR REGISTRATION FEE AND IS DUE UPON ARRIVAL AT MO-RANCH
Payments:
Make checks payable to - Mission Presbytery and write "PW Gathering" in the memo section.
Scholarships
Limited funds are available. First come, first served. To obtain information about a scholarship, contact the PW Treasurer, Mary Adele Blackwell at email madele@stx.rr.com
April 5-7 PW Gathering Registration Processing Policies
• Registration opens on JANUARY 15, 2014
• ALL REGISTRATION FORMS WILL BE ACCEPTED BY MAIL ONLY.
• PAYMENT OF $105.00 MUST BE INCLUDED WITH REGISTRATION FORM
• NO HAND-DELIVERED REGISTRATION FORMS WILL BE ACCEPTED.
• Registration forms that arrive prior to January 15, 2014 will be date stamped and numbered in order received, but will NOT be processed.
• Additional Lodging options: Your group may reserve any of the following locations by contacting Mo-Ranch directly and ASAP - 1-800-460-4401
Log Lodge, Tri-Plex Apts., Westminster Lodge

• NO refunds after January 24, 2014.
• NO SINGLE OCCUPANCY OR CHILDREN!
• Cost for Housing based on accomodations